kohnan shoji


President's Message
---
President's Message
Financial Results for FY2021 Second Quarter Aggregate, March 1, 2021 to August 31, 2021 (45th Fiscal Year)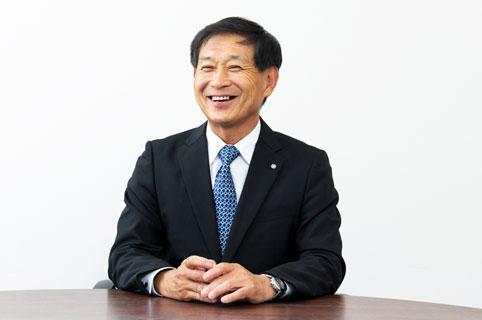 I am truly grateful to all our valued shareholders for your support. I am pleased to announce the aggregate financial results for the first and second quarters of our Fiscal Year ending February 2022.
KOHNAN SHOJI CO., LTD. is experiencing a huge impact this fiscal year from the increase in demand generated by the spread of COVID-19 infection. Home interior and storage goods as well as DIY lines are selling well due to the high demand for infection control products and home items as people are spending more time at home due to teleworking and stay-at-home advice. Thanks to this trend, net sales for the first two quarters of the fiscal year reached ¥218,972 million (down 1.4% year-over-year, 1.7% above target). Gross profit was ¥82,957 million (down 1.9% year-over-year, 0.5% above target), operating income was ¥16,030 million (down 25.6% year-over-year, 5.7% below target), ordinary income was ¥ 15,154 million (down 27.3% year-over-year, 5.9% below target) and net income decreased to ¥10,117 million (down 20.3% year-over-year, 1.2% above target). From these results, I am pleased to inform you that our performance is above the forecast we had announced, with sales, gross profit and net income posting all above-target figures, although regrettably aggregate results show underperformance over last year.
Our stores continue to grow in number, with the opening of 6 new Home Center stores, 4 new KOHNAN PRO stores, 2 new CAMP DEPOT stores, and 1 new Ken Depot pro store (first store to open after Ken Depot became our subsidiary), which have brought us to a total of 490 KOHNAN Group outlets.
The new 45th fiscal year marks the start of our Medium-Term Management Plan Part III, "We love KOHNAN!! just fit for you, now and always" launched to achieve our long-term vision, New Stage 2025. We have ambitious targets, namely net sales of ¥500 billion, ordinary income of ¥31 billion, and net income of ¥19.5 billion in FY2025. To achieve these targets, we have designated five priority strategies to deploy: 1. Private Brand Development Strategy (with future SPA in mind); 2. Store Digitalization Strategy (promoting Digital Transformation [DX]); 3. Store Operation Streamlining Strategy; 4. Format Strategy (remodeling existing store format); and 5. Human Resources Strategy (training human resources and optimizing staff assignment). We are focusing strongly on the fifth, the strategy on Human Resources. In July this year, we introduced a new pay structure, and in order to enhance employee benefit and welfare we extended the eligibility for J-ESOP and set up an employee stock ownership trust. We hope that this will encourage greater employee interest in our share prices and boost motivation through incentivization, thereby enhancing our corporate value. Higher corporate value would enable us to share more financial benefits with our shareholders and investors.
I am delighted to inform you that in August this year KOHNAN was selected as a constituent issue of the JPX Nikkei Index 400 for FY2021. As you are well aware, this index is composed of companies with high appeal for investors, which are characterized by strengths such as efficient use of capital and investor-focused management perspectives. The companies are screened by ROE and operating income averaged over the past three years, as well as market capitalization on the base date for selection. KOHNAN is the only company in the home center sector to be selected. KOHNAN will continue to work tirelessly to satisfy our investors, increasing corporate value through even bigger and better business activities.
Higher Shareholder Return
We recognize it as a priority of business management to return profits actively and appropriately to our shareholders. We consider it our fundamental policy to keep our dividends stable for the long term while comprehensively considering the performance forecasts and the total level of internal reserves. With this policy in mind, we have decided to pay 70 yen per share to our valued shareholders as annual dividend, comprised of a dividend of 35 yen per share for the interim payout at an increase of 3 yen per share and similarly a dividend of 35 yen per share for the year-end payout as a reflection of the business performance for the year. We have increased our dividend for 8 consecutive years, which we hope is welcoming news that meet your expectations. We aim to continue on our steady path of delivering higher shareholder returns. As was announced in April 2020, we have enhanced our shareholder special benefit program for shareholders who have held their shares continuously for more than 3 years. This is applied as of the fiscal year-end of February 2021. We trust that this enhancement will attract more ongoing support from you for a longer time.
In closing, we offer our sincere gratitude to all shareholders and request your continued and generous support for KOHNAN SHOJI CO., LTD.
November 9, 2021
KOHNAN SHOJI Co., LTD.
PRESIDENT, Naotaro Hikida
---